Terra Premium Caddy for Dolphin Robotic Pool Cleaners - Waterproof & UV Resistant
Regular price
Sale price
$249
Unit price
per
Sale
Sold out
As functional as it is beautiful, the patent-pending Terra Robot Caddy is made specifically for protecting, storing and transporting your Dolphin robotic pool cleaner.

Classic Style. Backyards always have room for a more style. The emotion-stirring Bamboo design clearly announces the presence of something unique.

Exclusive design features include a specially designed center console allow robot essentials like the power supply and cable to remain neatly & securely stowed away.

Your premium Dolphin robot deserves proper storage. The ordinary low-grade plastic pool caddy is out…replaced by beauty and a hand-crafted sense of quality like no other.

Awe-Inspiring genuine solid Bamboo brings the natural essence of the outdoors to your poolscape.
Share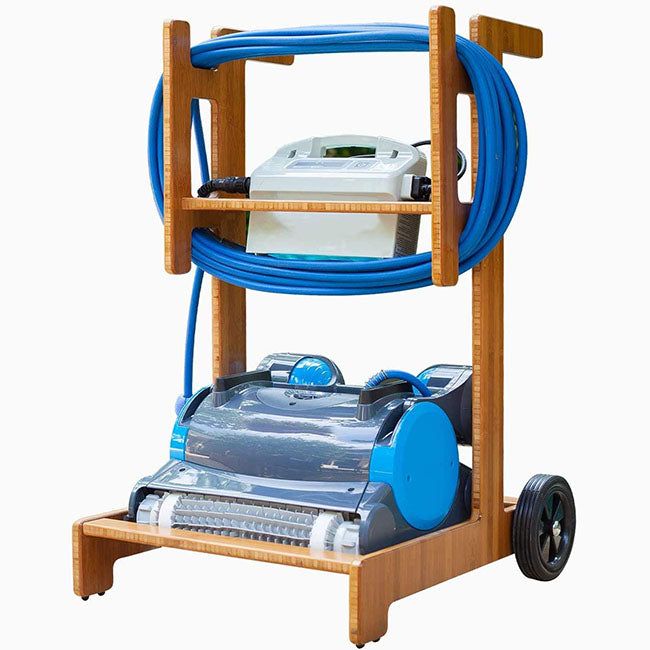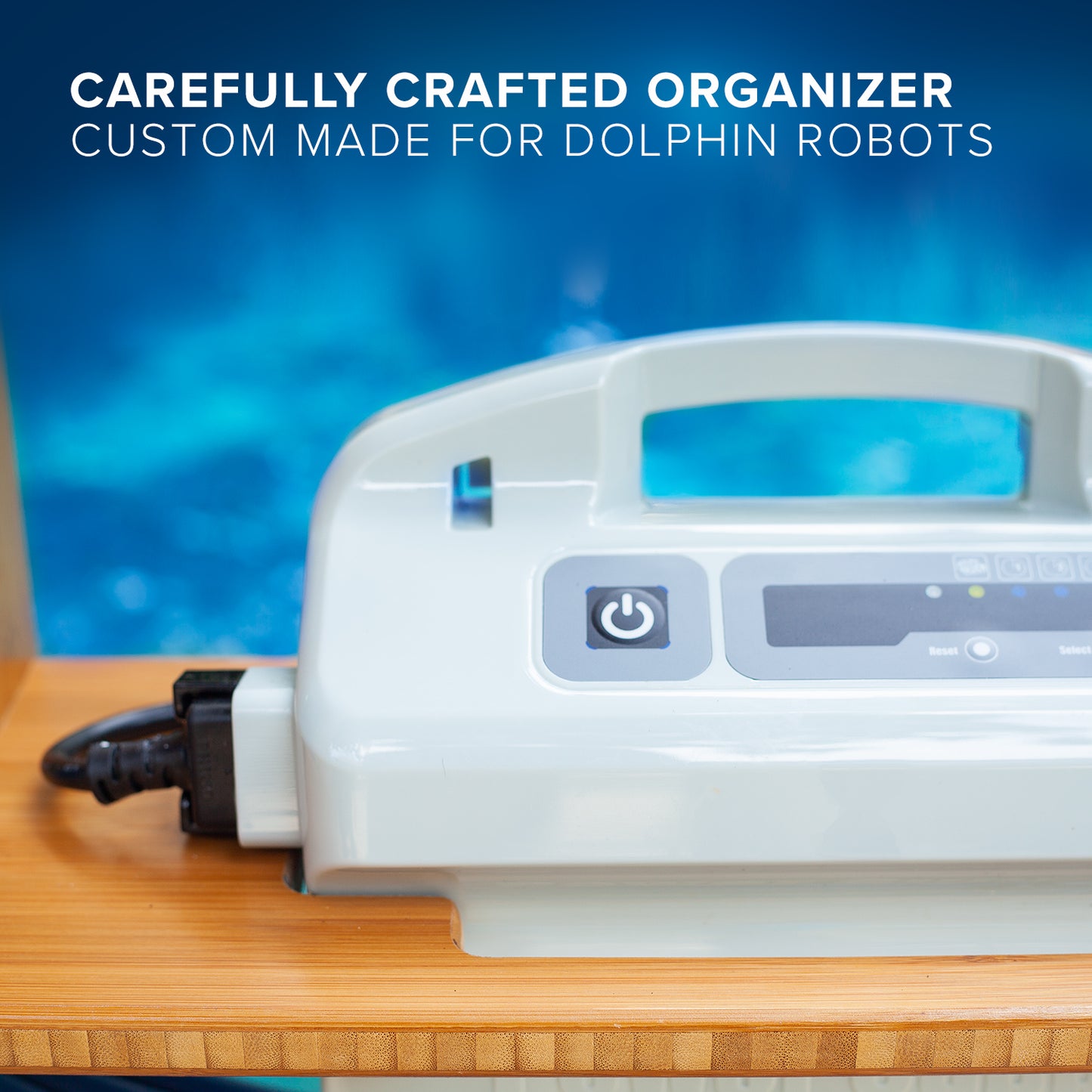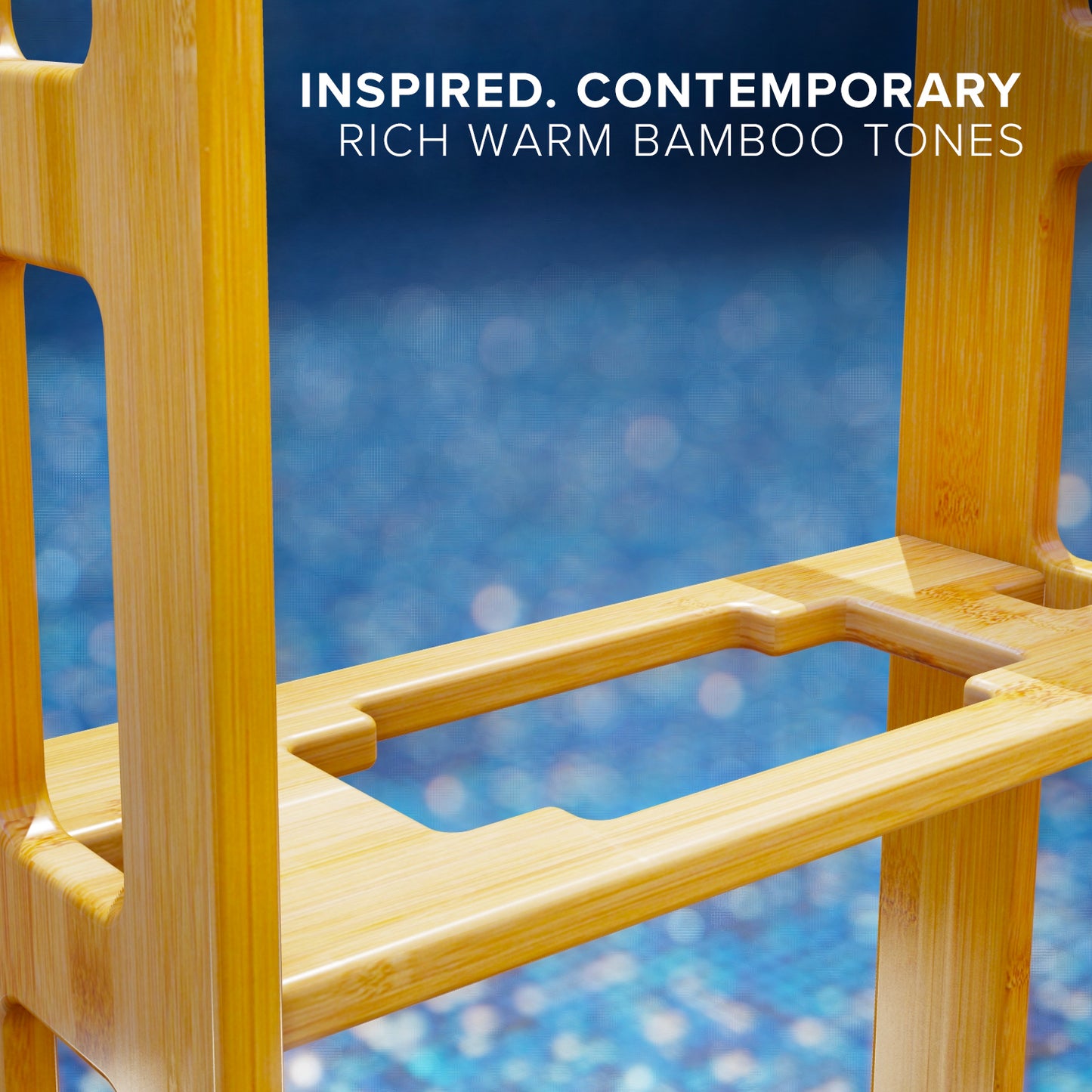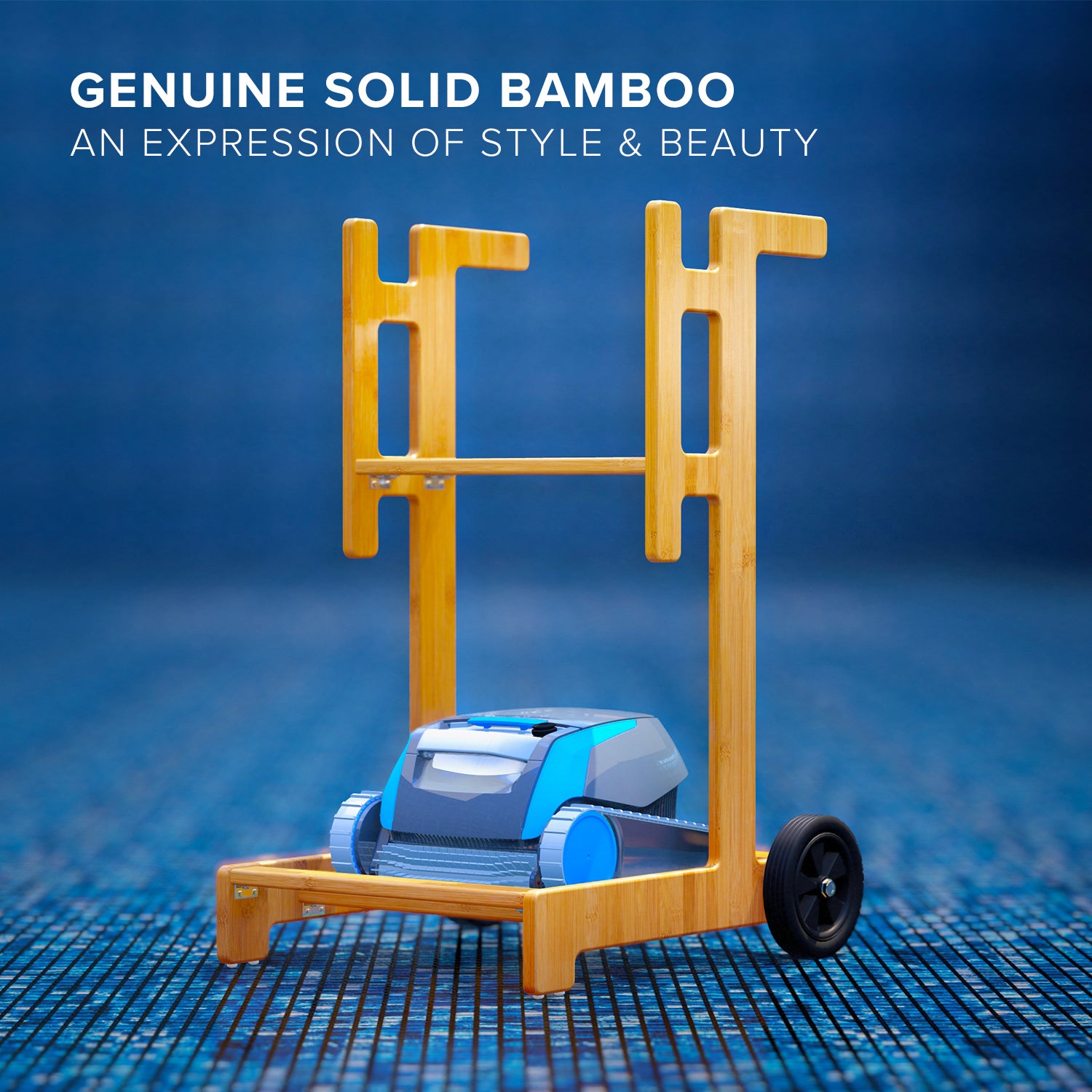 An Expression of Style and Beauty - Handcrafted with Genuine Solid Bamboo
With its exclusive patent-pending design, Terra has developed a caddy for a wide selection of robots for protecting and maintaining the robot, power supply and cable.  Optimized for Dolphin Robots, but compatible with 99% of robots on the market today including Aquabot, Polaris, Hayward and many more.
Elegant solid bamboo design delivers a premium alternative to the cheaper plastic Dolphin Robotic Pool Cleaner caddies.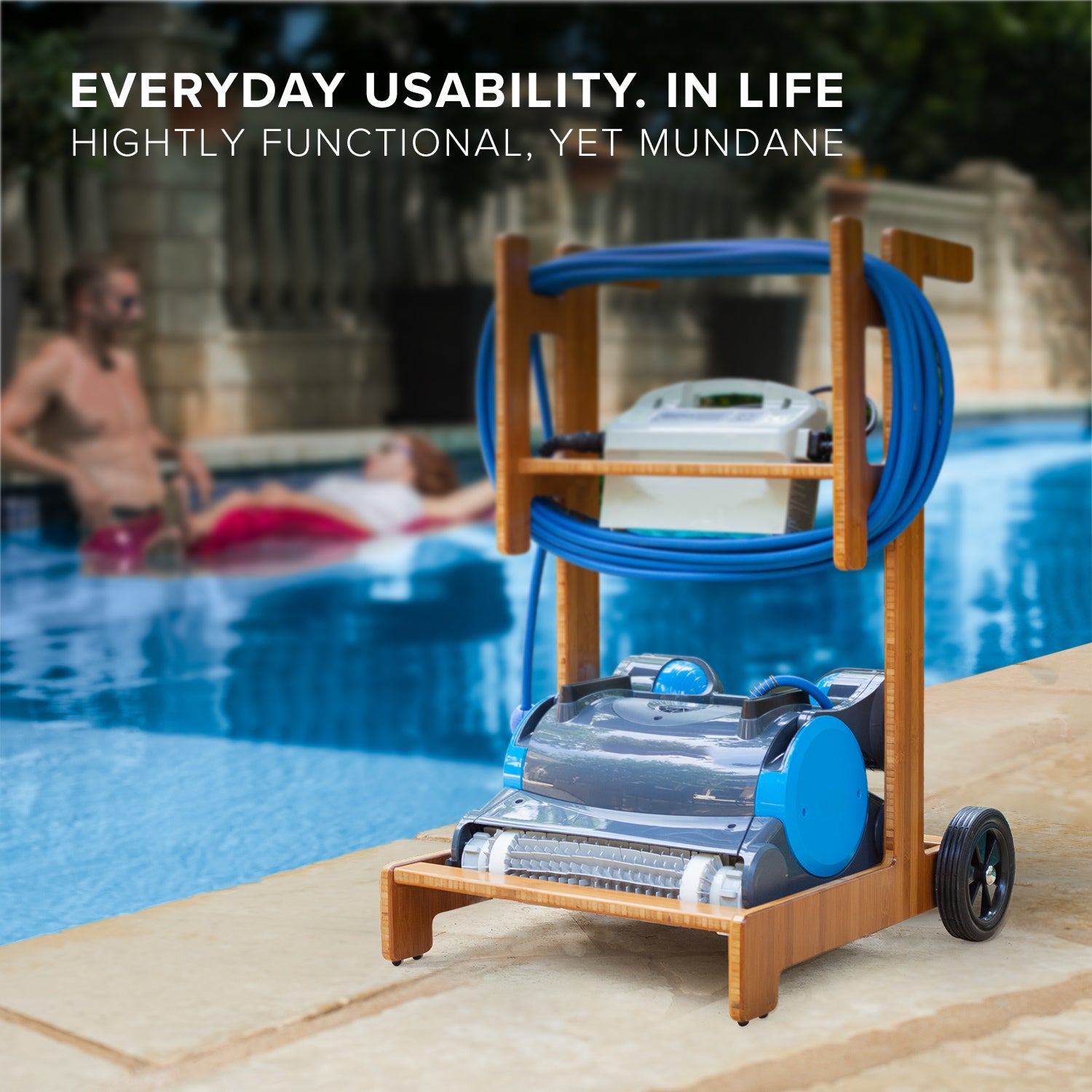 Timeless.  Inspired. Contemporary.
You've made the smart choice in pool automation and efficiency with a pool robot.  But how will you properly store and display your prized pool gear when not in use?  In short: your robot deserves proper storage.  And if it's just as individual as you, that's even better.  We've take taken the ordinary low grade plastic pool caddy and transformed it to a purposeful thing of beauty. 
An Individual, Engineered Robot Carrier - Patent-Pending Design.
The Terra Caddy defies all of the mundane expectations surrounding pool maintenance. A distinct opposite to unattractive plastic Dolphin robot caddies, the Terra Caddy is made of all-natural, solid, sustainable bamboo. Thoughtfully designed to integrate function and organization into one stylish package, the Terra Caddy makes storing and transporting a robotic pool cleaner easier and better-looking than ever before.
Handcrafted. Built to last.
Bamboo offers the natural essence of the outdoors without compromising durability. Its multi-layer design makes it three times more durable than oak, and its pure, warm hues are far more visually appealing than plastic.
Ready for the Outdoors
While multi-layer bamboo is naturally weather resistant, we decided to take it a step further.
The already sustainably sourced bamboo is protected by another environmentally conscious choice: UV-cured, solvent-free resin. UV-cured coatings cure when exposed to ultraviolet light in the low end of the nanometer range, or just below visible light. This resin cures to an extremely hard layer, making it resistant to scratches and weathering. The overwhelming advantage of using this method is the elimination of VOCs. The resin cures very hard, making it solvent-resistant and scratch-resistant. This level of protection makes the Terra Caddy stand up to rain, sunshine, termites, and more.
The pioneering mix of materials employed in the Terra Caddy, including solid bamboo, brushed aluminum and stainless steel, has never been seen before in a robotic carrier, which is why it brings out the character with stunning effect.
Spacious Deck. Neat & Tidy.
The Terra Caddy was thoughtfully designed to make life easier for pool owners.  The spacious lower deck accommodates virtually all robotic pool cleaners.  Pool robot cables are known for tangling and are prone to memory.  To give power cables a neat and tidy home, the Terra Caddy has a built-in cable holder where the cord wraps securely and neatly, free from kinks.  The power supply holder is nestled in a special bamboo holder or a canvas bag.
Accommodates Nearly Any Robotic Pool Cleaner
Our designers created a spacious lower deck that can fit robotic pool cleaners that are up to 17.5" wide and 18.5" long. Unlike other Dolphin pool cleaner caddies, the Terra is universally compatible with 99% of pool robots. So, even if you upgrade your robotic pool cleaner years down the road, the Terra Caddy will continue to serve your robotic caddy needs.
Terra Caddy is engineered with the superior quality and uncompromising standards both you and your robot deserve.   Unlike flimsy plastic Dolphin robot caddies and Aquabot caddies, the Terra Caddy isn't made up of flimsy plastic pieces that snap together. The edges of the all-natural bamboo are beveled to create soft, rounded edges. Each piece is carefully sanded, measured, and cut to fit together perfectly.  The Terra is ready to get to work – and look good doing it, too.
Gear You'll Want to Display Proudly
Terra Caddy's premium design is pure and more emotionally engaging that plastic Dolphin robot caddies.   A modern shape and unique bamboo design complements any poolscape. The simple design showcases the natural warmth of the bamboo, which is also ideal for outdoor use thanks to a protective UV cured coating.  It's the one piece of pool equipment you won't mind leaving out – because it looks so great.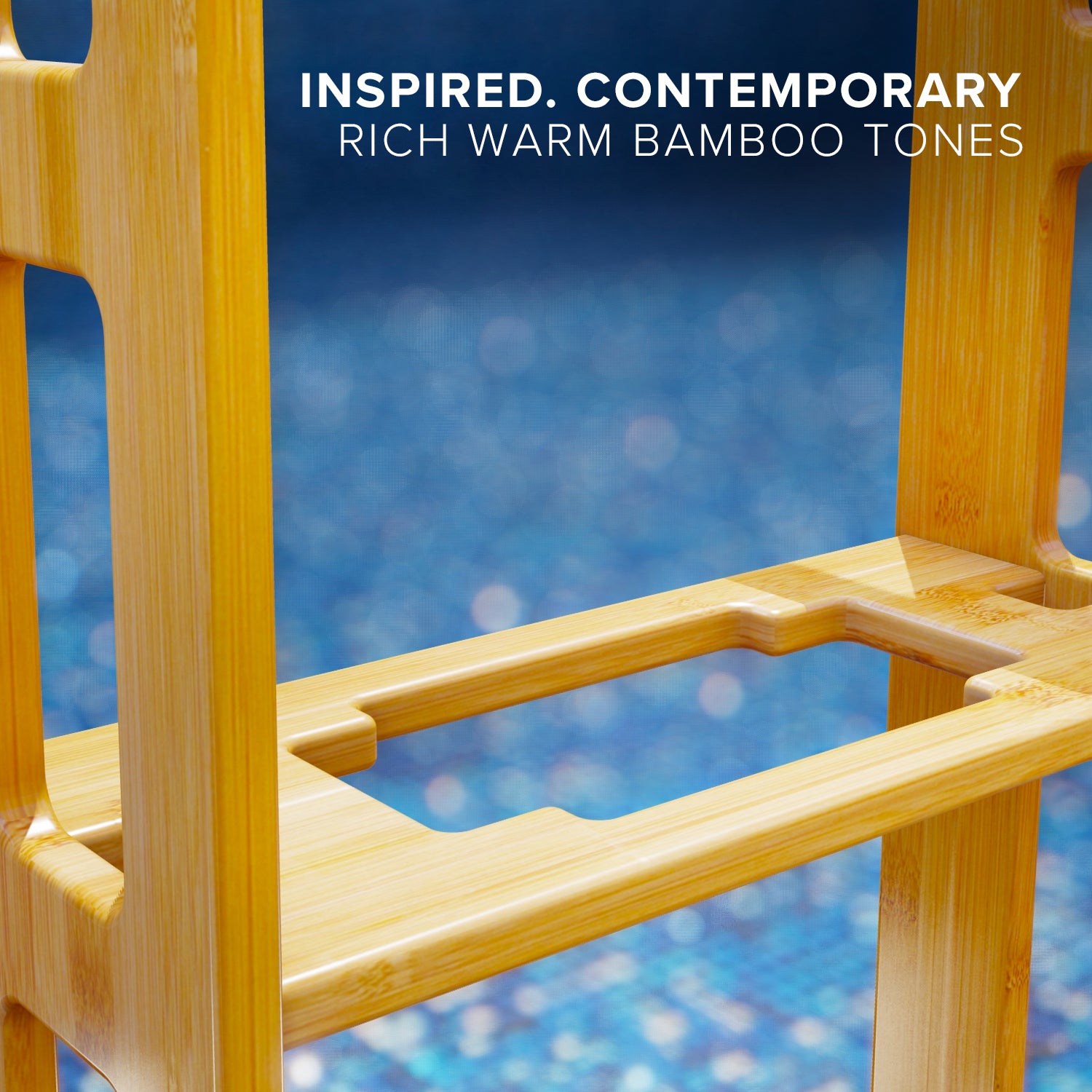 Real Materials. Premium Components.
The refinement of the Terra Caddy doesn't end with bamboo. We chose hardware that's just as durable, weatherproof and visually pleasing. The rear wheels are made of solid, tough rubber, as opposed to low quality hollow plastic. These provide balance and durability on every terrain, capable of easily traversing gravel, sand, rocks, or grass to and from the pool.  For the rear axle and brackets, aluminum was selected.  One of the strongest and lightest materials available, aluminum will never rust or discolor.  The fastening screws are all stainless steel, providing years of trouble-free enjoyment.
The metallic accent surfaces in brushed aluminum and stainless steel have a warm, shimmering tone, adding to the exclusive premium design. Neat design touches such as the specially designed center console allow robotic essentials to remain securely stowed away when in motion.
Innovative materials for a luxurious ambiance and optimum performance. We have designed a modern and luxurious robotic mobility solution with the help of innovative materials. Whereas its geometry is clear and restrained, individual components are showcased like top-class accessories