Dolphin Sigma Robotic Pool Cleaner - Refurbished
Regular price
$1,699
Sale price
$1,099
Unit price
per
Sale
Sold out
Full 3 Year Warranty. Authorized Dealer Exclusive. 

3 Year Warranty (even on Open Box & Refurbished units) starts on day of delivery!

Easy way to save hundreds! Comes with all original parts, accessories, and is in full working order! Each unit is inspected using Maytronics software and fully tested.

On-board Gyroscope. In a revolutionary feat, engineers at Maytronics gave the Sigma a gyroscope to enable the robot to clean & navigate your pool with optimal efficiency. 

Hassle-free clean. Easy-to-use, robotic pool cleaner equipped with an anti-tangling swivel cable, allowing Sigma to move freely around large residential pools up to 50 feet with ease. Backed by a 3 year quality assurance.

No messy bags to clean. Massive top-loading cartridge filters captures and traps fine and ultra-fine debris for an optimal clean swimming pool.

Powerful, dual scrubbing brushes thoroughly and efficiently attacks tough contaminants removing algae and bacteria from floor, walls and waterline for a deep clean in 2.5 hours.

Just say when. Set Sigma's weekly scheduler to automatically clean for you- daily, 2x per week, or 3x per week. Connect your Sigma to your smartphone using WiFi to schedule cleanings or spot clean when needed.

Smart Navigation. Advanced navigation and scanning software ensures your pool is cleaned using the most efficient route without letting obstacles get in the way.


Scratches
Discoloration

Fully Tested &

Full Manufacturer's Warranty

Excellent

Little to Minor

No

Yes

Good

Minor to Decent

Good amount of scratches

Possible slight on Sponges

Yes

Fair
Heavy scratches
Slight possible on Sponges / Unit
Yes
Why Buy Direct From PoolRobots?
Risk-Free 30 Day Trial
No Restocking Fee Ever
FREE FedEx Shipping on All Orders
Price Match Promise
Every Robot Includes Full Manufacturer Warranty
Share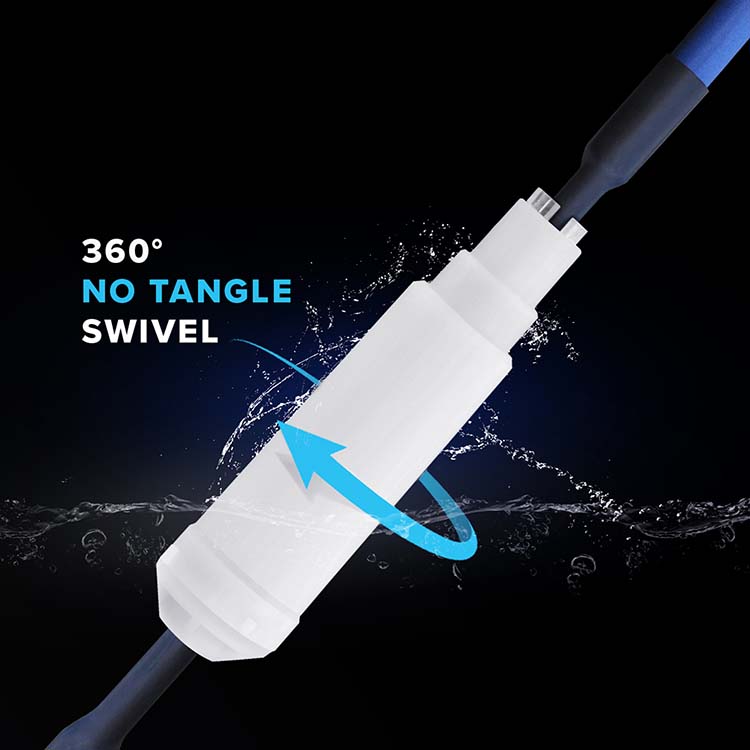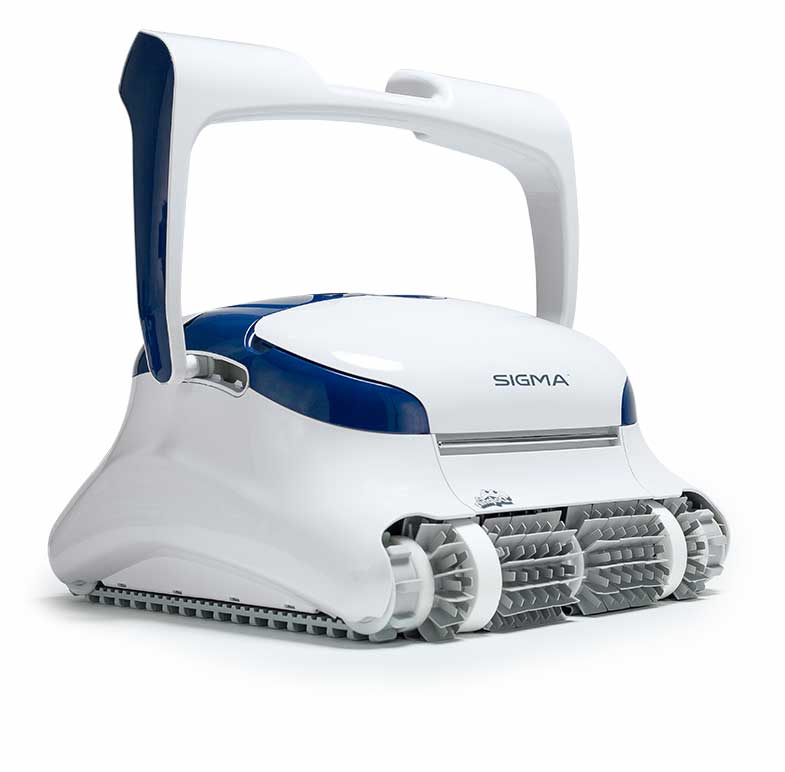 The Flagship of Dolphin Pool Cleaners
It's simply the best Dolphin robotic pool cleaner ever made. It is easy to see why the new Dolphin Sigma is the answer to the changing demands of pool owners everywhere. With groundbreaking gyroscope technology, commercial grade motors, and a level of efficiency never seen before, the future has already begun. The newest Dolphin features not one, not two but three highly efficient, commercial grade DC motors for the most powerful suction and navigation ever in a robot.
Massive Top-Loading Cartridge Filtration
The Largest Cartridge Ever in a Pool Robot.
The new Sigma's filtration system is so large, easy and convenient, you'll never consider messy, cumbersome debris bags again. Cartridge filters have been around for years but pool owners found them small and difficult to clean. Previous generation cartridges made debris removal nearly impossible with small cavities that trapped small debris and fine dirt. Consider this problem solved. With the new Sigma, Dolphin introduces a new massive cartridge with the highest capacity ever recorded on a pool robot. The new Dolphin SnapLoc™ Filters make robot cleaning easier than ever. Each side simply snaps apart for quick and easy cleaning.
PowerClean™ Dual Scrubbing Brushes
Four Independent Scrubbing Brushes.
One Robot.
Virtually any pool cleaner can vacuum loose debris, but it takes a special type of robot to remove contaminants that adhere to the pool surface. Traditional cleaners merely pass over difficult to remove pathogens, leaving them fully intact. The Sigma robot was engineered from the ground up to deep clean. Engineers gave Sigma dual scrubbing brushes that attack the bacteria, algae and biofilm that is firmly attached to the pool wall. PowerClean is especially effective against biofilm, a structured community of microorganisms that increases chlorine demand, destroys water quality, and frustrates pool owners. Guided by SmartNav 3.0, Sigma's dual high RPM brush power scrubs every square inch of any pool with remarkable efficiency.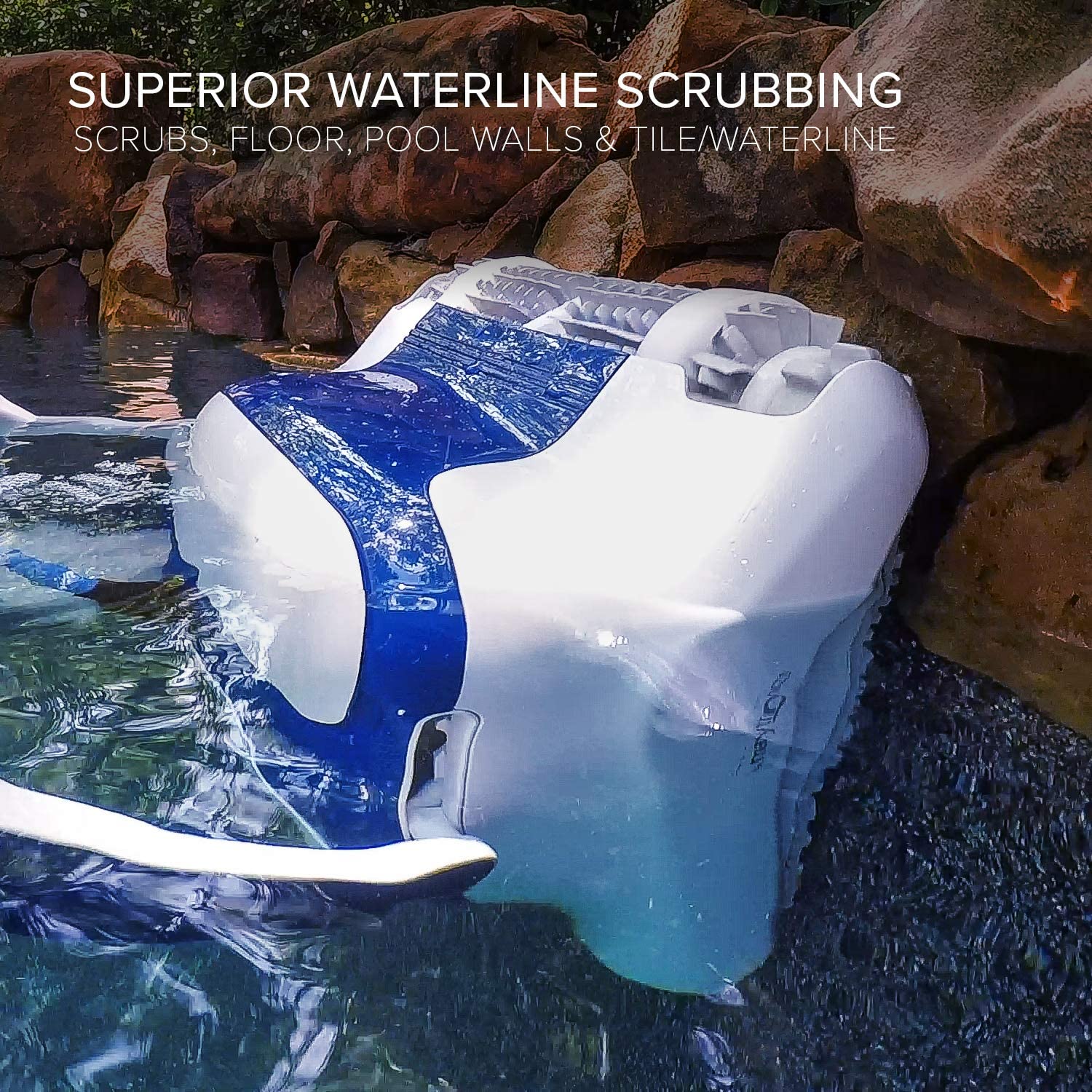 Clean the walls and waterline like never before.
In a radical departure from ordinary cleaners, the Sigma pool cleaner was designed to clean all pool surfaces including the tile and waterline with pinpoint precision. For the first time ever, a consumer robot is equipped with an advanced Gyroscope to deliver precise control and positioning of the robot. While other cleaners fall from the wall, the all-new gyroscope and triple 3,000 RPM DC motor allows Sigma to remain firmly planted against the wall all the way to the top. Sigma Dolphin pool cleaners reaches every square inch of the pool as high speed spinning brushes handle difficult colonies of bacteria, algae, and biofilm. Sigma reaches deep inside pool corners, scrubs, and vacuums so you don't have to.
Commercial Grade at Prosumer Price.
So what exactly makes the Dolphin Sigma the most progressive pool cleaner in the world? It's rather simple. The Sigma provides visionary mobility, inspiring design and a whole new focus on sustainability. The result is a technologically superior robotic pool cleaner. The absolute best warranty available and legendary Dolphin pool cleaner performance are standard. Discover new groundbreaking features that represent the current state of pool cleaner technology.
Triple High RPM DC Motors.
Sigma's ultra-efficient DC Motors use 87% less energy, while providing more power. Famous for a high ratio of torque to inertia, the DC motor can provide up to five time it's rated torque without stalling. The Sigma Dolphin pool cleaner utilizes not one, not two, but three onboad DC motors. The revolutionary 24 volt DC motors require 87% less energy than the AC motors that power old fashioned pool cleaners. Efficiency demands power. That was the principle then. And it still stands today. There was an opportunity to get more from less. To optimize the work input to work output. Enter the era of gyroscope enabled robotic pool cleaners.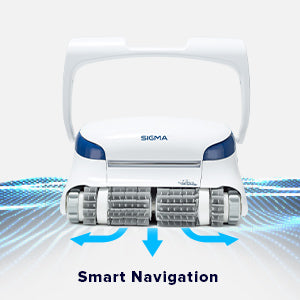 SmartNav 3.0™
Dolphin Engineers gave the Sigma SmartNav 3.0 software. This next gen software allows the Sigma to calculate the most efficient route for an optimal clean. Utilizing the onboard gyroscope, the Dolphin Sigma is able to attack the floor, walls, and waterline with pinpoint precision.
Gyroscope Technology. Never seen before in a pool robot.
There's a new mandate that guides the engineering principles of Dolphin. Conserving resources while maximizing output. That's why the gyroscope enabled Sigma operates on nearly 90% less power than old fashioned pressure side and suction side cleaners. While other pool cleaners can expend a massive 1800 watts of power, the Sigma requires about 90% less energy.
Sigma's triple 24-volt, 3000 RPM DC motors propel its dual scrubbing brushes over every square inch of the pool effortlessly, and with a huge leap ahead in efficiency. This economical balance of power and efficiency is what keeps the Sigma ahead of traditional, power-hungry robots. Even weight distribution between front and rear promotes better balance and allows electrical energy to be converted into propulsion more efficiently. But that's not the whole efficiency story. Sigma's 2.5 hour cleaning cycle means it cleans quickly and thoroughly so it operates less.
WiFi Enabled Programmable Timer
Sigma is equipped with programmable run frequency and cleaning duration so you're always in full control. With programmable modes, you can set Sigma to automatically run when you need it - daily, 2x per week or 3x per week. Sigma comes with a built-in, programmable weekly timer to ensure that even if you are out of town, your pool stays clean and ready to enjoy. Sigma is engineered to clean quickly and thoroughly. This means you can schedule your robot to run less often. Sigma will complete a cleaning cycle in pools up to 60 feet long in just 2.5 hours. The new advanced controls allow you to run Sigma only as needed instead of every day, saving even more energy.
Specifications:
Gyroscope
Advanced Navigation and Sensing. Onboard Gyroscope enables a deeper level of cleaning.
Filter Options
Oversized Filter Cartridges
Includes both Ultra-fine Filter set & Standard Filter set
Tile & Waterline Cleaning
Vector Advanced Waterline Cleaning Ability
Logic
Calculates optimal cleaning route for faster cleaning & improved efficiency
Navigation
Upgraded microprocessor controlled SmartNav 3.0 learns subject pool
Capabilities
Vacuums leaves, debris, pollen, twigs, algae, & more
Dual Stabilizers
Delivers superior agility, manueverability, & climbing performance
Energy Efficiency
Reduces energy costs up to 90% over AC powered cleaners
All Surfaces
Power scrubs and vacuums doors, steps, walls, and water line
Maximum Filtration Rate
Micro filters 75 gallons per minute for remarkable water quality
Micron Rating
2 micron - removes thet smallest contaminants, even green algae
Air Sensor
Learns water line elevation for superior water line cleaning
Motors
Dual 24 volt brushless DC energy-efficient, long-life motors
Anti-tangle Swivel
It's the world's only true cable swivel, a patented Dolphin exclusive
Warranty
3 Year Manufactuers Warranty