Dolphin Quantum Robotic Pool Cleaner - Refurbished
Regular price
$1,199
Sale price
$879
Unit price
per
Sale
Sold out
Full 2 Year Warranty. Authorized Dealer Exclusive. 



 2

 Year Warranty (even on Open Box & Refurbished units) starts on day of delivery!

Easy way to save hundreds! Comes with all original parts, accessories, and is in full working order! Each unit is inspected using Maytronics software. Each unit has less than 10 hours on its motor.

Cleaning made convenient. Easy-to-use, light weight in-ground robotic pool cleaner with a weekly scheduler so you can set your Dolphin to automatically clean for you- every day, every other day, or every 3rd day.

Cleans with ease. Anti-tangling swivel technology allows the Quantum to move freely around large residential pools up to 50 feet for an uninterrupted hassle-free clean.

Hugs and scrubs your pool's walls. PowerStream mobility provides a constant grip on vertical surfaces for intense wall and waterline scrubbing, removing tough, stuck-on-dirt for an exceptionally clean swimming pool.

Fine and ultra-fine filters for superior filtration. Extra-large top loading filter basket traps leaves, dirt and even small debris you can't see, leaving your pool sparkling clean in a quick 2 hours

Save Energy with Every Pool Cleaning. 8X more energy efficient than pressure and suction cleaners! No hoses or booster pump required. Backed by a 2 year quality assurance.


Scratches
Discoloration

Fully Tested &

Full Manufacturer's Warranty

Excellent

Little to Minor

No

Yes

Good

Minor to Decent

Good amount of scratches

Possible slight on Sponges

Yes

Fair
Heavy scratches
Slight possible on Sponges / Unit
Yes
Why Buy Direct From PoolRobots?
Risk-Free 30 Day Trial
No Restocking Fee Ever
FREE FedEx Shipping on All Orders
Price Match Promise
Every Robot Includes Full Manufacturer Warranty
Share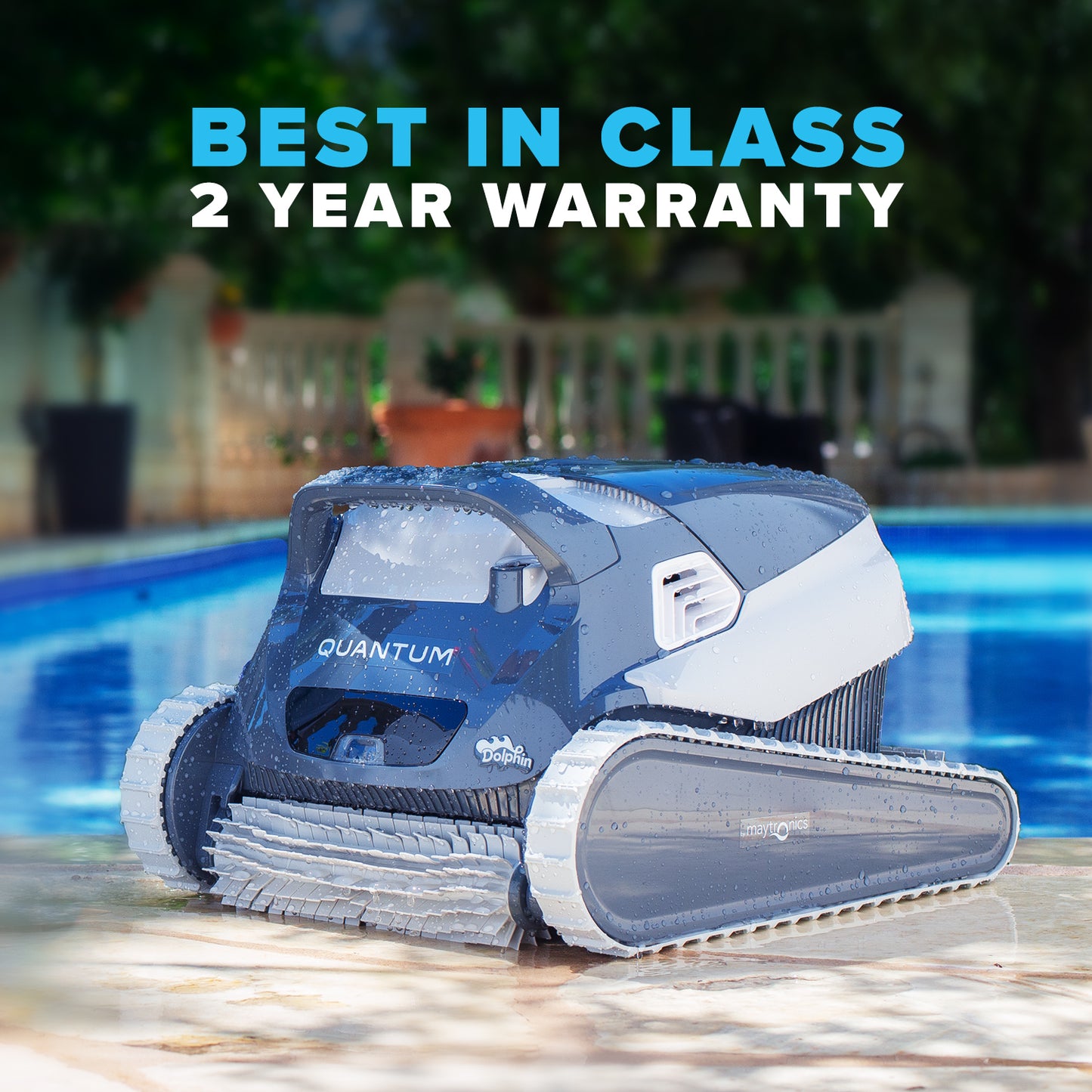 Authorized Dolphin Dealer.
As a proud Authorized Dolphin Dealer, all of our Dolphin Robots come with Full Manufacturer Warranties. Serving all of the best Maytronics Robotic Pool Cleaners at the Lowest Prices.
Shop Dolphin
The Upper Echelon of Robotic Pool Cleaners.
The Dolphin Quantum takes its place at the top of the Dolphin line-up and in the top echelon of robotic pool cleaners. It's easy to see why the new Dolphin Quantum is the answer to the needs of pool owners everywhere. With groundbreaking PowerJet 3D™ Mobility and a level of efficiency never seen before, everything comes back into play.
It's about a new benchmark. We are always looking forward. Not sideways, never back. So we started from scratch. And we gave everything to make the newest Dolphin even better. In doing so, the next Dolphin can do more, deliver more and consumes less power than ever before. Highly efficient, state-of-the-art DC motors and an ingenious PowerJet 3D ™ Mobility deliver an exceptional user experience while reducing energy use up to 87%. In a class by itself, the Dolphin Quantum was designed from the ground up to be easier to own and easier to operate.
The Laws of Physics Redefined.
Long suggested to be part of the ultimate in underwater robot mobility, Power Jet 3D™ Mobility is now available in a pool-cleaning robot. Patent-Pending multi-direction water flow provides constant grip on vertical surface for superior wall and tile line cleaning. The Quantum employs three jet nozzles capable of creating vectored thrust to deliver a range of motion that is impossible with ordinary pool robots. As the robot climbs the wall, the three jet nozzles create a powerful force as a stream of fast-moving water is expelled in up to three directions.
PowerJet Mobility provides the robot with precise control that allows it to move at extreme angles and even laterally on the wall. Water-jet drive provides a major advantage when compared to conventional pool cleaners. Jet drive steers the robot with vectored thrust, providing unmatched maneuverability , including the ability to precisely hold a robot in a fixed position against the effects of gravity. The Quantum is the world's first pool robot propelled by three jet drives with thrust vector control for ultimate maneuverability. Power Jet 3D Mobility also improves navigation accuracy and enables the robot to escape and avoid any obstacle.
SnapLoc™ Filtration
Stop wasting valuable time cleaning your robot. Cartridge filters have been around for years, but early adopters found it difficult to scrape out dirt and debris. Consider this problem solved. All four sides of the Quantum filter are removable for quick and easy cleaning. In addition, the bottom panel is hinged to allow released debris to simply fall out.
Dual Scrubbing Brushes
With a powerful HyperBrush™ leading the way along its cleaning path and an additional brush bringing up the rear, the Quantum leaves nothing in its wake. The HyperBrush™ scrubs 2x faster than traditional brushes to dislodge even the most difficult contaminants.
SmartNav 2.0™
Gone are the days of watching your robot aimlessly wander around your pool, wondering if it will ever get to that debris it has missed day after day. The new Quantum is equipped with a SmartNav 2.0 ™ Robotic Scanning system to ensure that every inch of your pool surface is reached. With its revolutionary pool mapping system, the Quantum knows where it has and hasn't been to avoid overlapping cleaning paths and inefficient use of cleaning time.
Just Say When. Programmable Smart Timer.
The Quantum moves quick, and will complete a cleaning cycle in pools up to 60-feet long in 2 hours. Its advanced mapping system ensures that cleaning paths don't overlap and that every inch of your pool is touched by its advanced scrubbing brushes. The Quantum comes with a built-in, programmable weekly timer to ensure that even if you are out of town, your pool stays clean and ready to enjoy. The Quantum is equipped with programmable cleaning modes and a weekly timer so you're in precise control.
Convenient Carry Handle
As a leader in efficiency, the new Quantum redefines what it means to look and feel like a robotic cleaner. Its newly designed frame is sleek and low to the ground for minimal water resistance as it moves along your pool's slopes and walls. Its convenient carry handle is located near the front for easy access, making it easy to remove during cleaning. Quantum also features a fast water release system to remove excess weight and ensure that it remains lightweight and easy to carry, even after a full two hours in your pool.
Powerful yet Efficient
The Quantum's dual 24-volt DC motors propel it effortlessly around your pool, and with a much higher efficiency. While other pool cleaners can expend a massive 1800 watts of power, the Quantum requires only 180 watts.
2 Year Warranty
Quantum will forever change the way you view a clean pool. The Quantum picks up where other robots fall short with new and innovative new features. It's time to try the Quantum difference. Try Quantum in your pool for 30 days, days and if you're not 100% satisfied, just return it. Let Quantum challenge everything you think about robotic pool cleaners.
The Dolphin Quantum is backed by a 2 year manufacturer's warranty.