Dolphin Premier Robotic Pool Cleaner - Refurbished
Regular price
$1,749
Sale price
$1,099
Unit price
per
Sale
Sold out
Full 3 Year Warranty. Authorized Dealer Exclusive. 

3 Year Warranty (even on Open Box & Refurbished units) starts on day of delivery!

Easy way to save hundreds! Comes with all original parts, accessories, and is in full working order condition! Each unit is inspected using Maytronics software.

Drop and go. Easy to use, single button plug and play in-ground robotic pool cleaner ideal for pools up to 50 feet; backed by a

 

3 Year Manufacturer's Warranty from Maytronics

SmartNav 2.0 delivers a smart and efficient clean using advanced algorithms for complete pool coverage. Anti-tangle patented swivel cable allows your Dolphin to move around your pool with ease.

Powerful, dual scrubbing brushes forcefully attack tough dirt and debris leaving your swimming pool floor, walls and waterline exceptionally clean in 3 hours.

Only Dolphin robotic pool cleaner with a leaf bag. 

The Premier is the go-to cleaner for picking up leaves, twigs, and debris. Holds exceptionally more than other traditional cartridge filters.

Multiple filter options for an optimal clean pool. The Premier comes standard with three filter options: bottom-load fine cartridge filters, ultra-fine cartridge filters, and an oversized fine filter bag. The most filters in a Dolphin cleaner ever.

Cleaning made convenient. Set the Premier's weekly scheduler to automatically clean for you- every day, every other day, or every 3rd day. The full filter indicator lets you know when it's time to clean your filter.


Scratches
Discoloration

Fully Tested &

Full Manufacturer's Warranty

Excellent

Little to Minor

No

Yes

Good

Minor to Decent

Good amount of scratches

Possible slight on Sponges

Yes

Fair
Heavy scratches
Slight possible on Sponges / Unit
Yes
Why Buy Direct From PoolRobots?
Risk-Free 30 Day Trial
No Restocking Fee Ever
FREE FedEx Shipping on All Orders
Price Match Promise
Every Robot Includes Full Manufacturer Warranty
Watch and Read Reviews
Share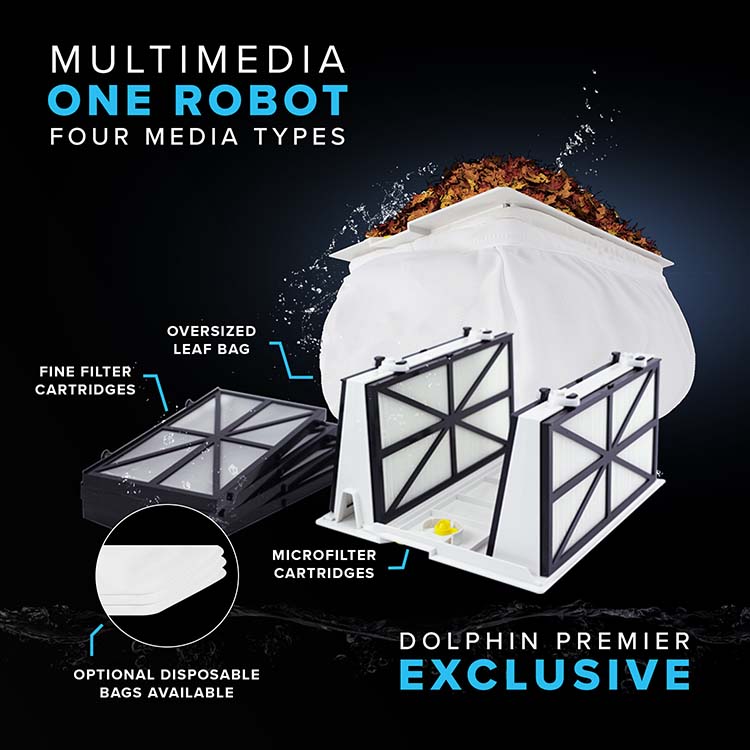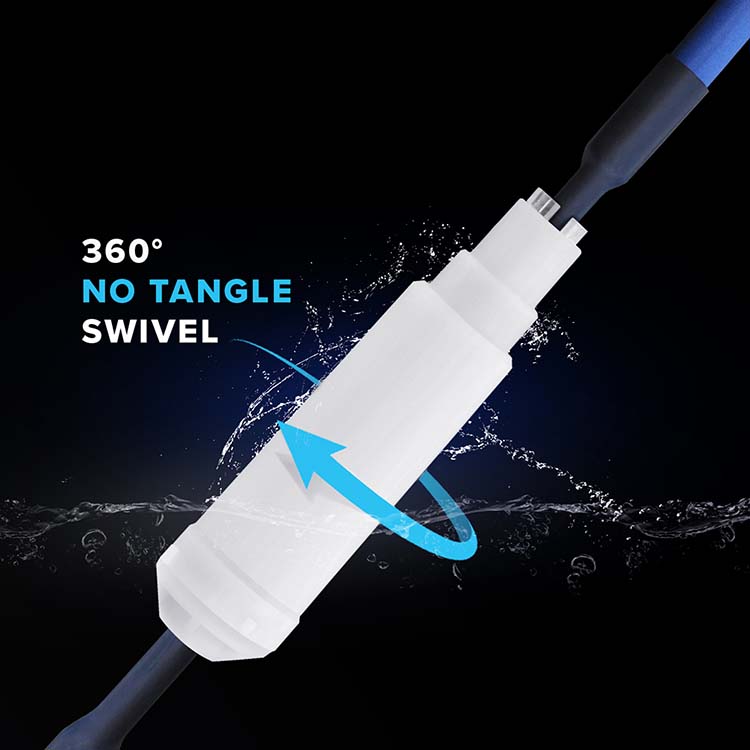 Tile & Waterline Expert
Over 90% of all bacteria and algae in a typical pool is found on the wall, with the highest concentration found where the water stops on the wall. This problematic area is referred to as the waterline, also known as the scum line. The highest concentration of bacteria, algae, debris, and biofilm lives here. Most robotic pool cleans advertise they clean the wall. However, they are only capable of cleaning the lower part of the wall and are unable of reaching the upper wall and waterline. However, the Dolphin Premier is different.
Engineers at Dolphin enabled the Dolphin Premier to wall climb with Vector Climbing Technology. The Premier's dual stabilizers on top of its body is the secret to maintaining its position on the upper pool wall. The Premier attached itself to the pool wall and maintains its position, scrubbing away at tough debris on the waterline. The result is an engineering milestone and a whole new level of clean that has never been found in a pool robot before.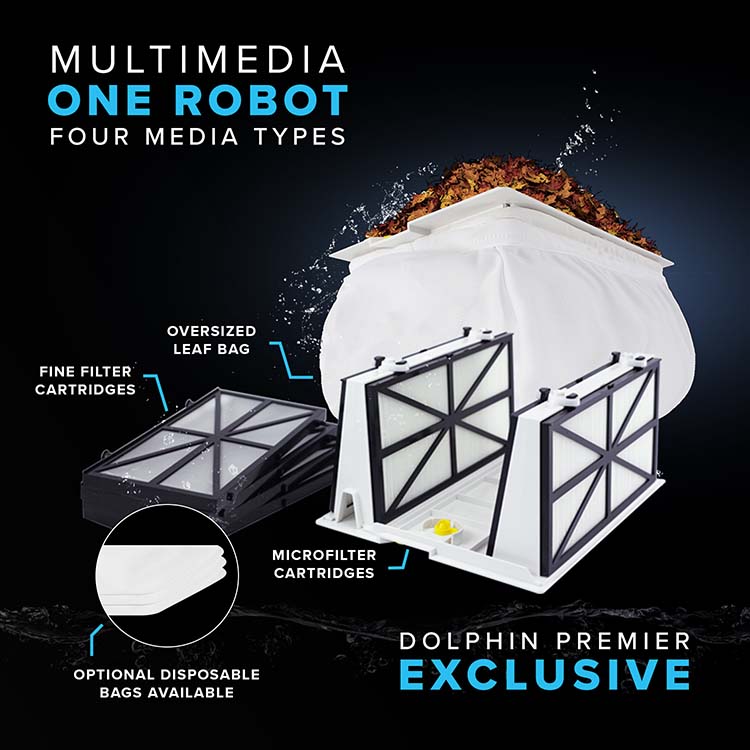 MultiMedia™ Technology
The only robot with MultiMedia™ Filtration. Pick the exact filter you need for any job. Want to clean fine algae and debris? Go micro-filter. Need to pick up a bushel of leaves? Use the oversized debris bag. There is even an optional disposable bag option for those who prefer not to clean anything at all. The Dolphin Premier stands alone being the only robotic pool cleaner to offer MultiMedia™.
MultiMedia™ is the latest innovation from Dolphin. Most robotic pool cleaners only have one type of filter media. However, filters aren't one size fits all. Other robots are limited to as little as one media option. Don't be confined to just a cartridge filter if you need to pick up all of the leaves at the bottom of your pool. With the Dolphin Premier, you'll never need to settle.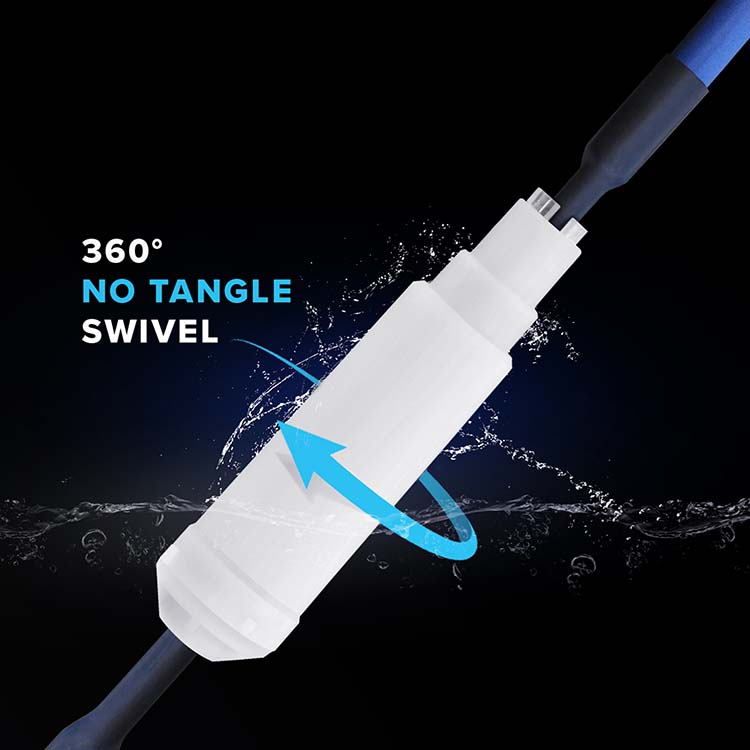 Anti-Tangle Swivel
No more pesky tangled cords. The 360° no tangle swivel ensures your pool cleaner won't get tangled or knotted, allowing Premier to run everyday without having to constantly monitor it.
Anti-Tangle patented swivel technology provides uninterrupted hassle-free cleaning. One of the greatest engineering accomplishments in the pool robot industry.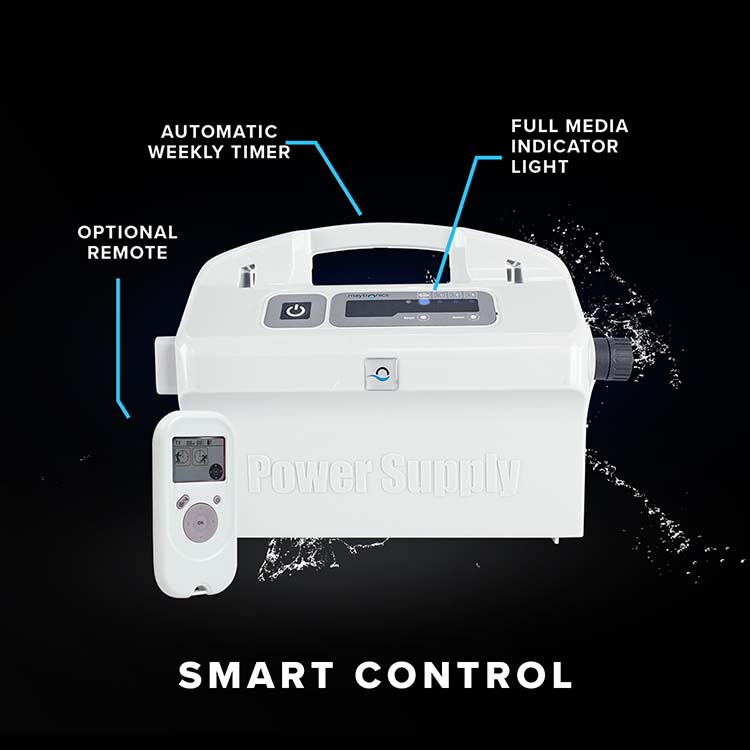 Weekly Smart Timer with MediaAlert™
Dolphin Premier requires just 3 hours to run a complete cleaning cycle. For most pools, there is no need to run the Premier every day - 2-3 times per week is all you need. With MediaAlert™, Premier will monitor the filter and flash an LED light when it is at full capacity allowing you to know when it is time to clean the filters. Dolphin Premier's Smart Weekly Timer allows you set the Premier to automatically turn on and off at the desired frequency - whether that is daily, twice a week, or three times a week.
SmartNav 2.0™
Once you unleash the Dolphin Premier automatic pool cleaner into your pool, it automatically finds the fastest, most efficient route and cleans it with unparalleled precision. SmartNav 2.0™ software scans and calculates the optimal pattern for a fast and efficient clean.
Unlike other pool cleaners that wander your pool aimlessly, the Premier is smart and logical. With microprocessor controlled SmartNav, the Premier chooses the optimal route to keep your pool spotless. If you would rather take control, make sure to choose add the optional wireless remote control. Great for spot cleaning and getting into those pesky, hard to reach spots.
Large Commercial Grade Motors
The efficiency of the Premier does not compromise power. Dolphin engineers gave Premier larger, more powerful motors borrowed from the commercial line of robots. These heavy duty motors are 20% larger, providing the powerful suction force needed for larger debris. Prone to slip and wear out prematurely, drive belts have been replaced with a new direct drive system. Ordinary wheels have been replaced by HyperGrip™ dual tracks. These high performance rubber tracks reduce slippage up to 40% and help take efficiency to a whole new level. Watch Premier's powerful dual motors at work when it cleans the waterline.
To effectively scrub this area, the cleaner must have enough power to rise above the waterline while maintaining contact with the wall. While some cleaners only vacuum loose debris, Premier scrubs and cleans the pool surface with two powerful spinning brushes - dislodging dirt, debris, biofilm and other contaminants. More power enables a whole new level cleaning.
Best-In-Class 3 Year Warranty
A Robotic Pool Cleaner is an investment. This is why the Premier is backed by a 3 year warranty from Maytronics so you never have to worry about your robot. Built with a modular design, the Premier can be repaired in as little as 10 minutes at hundreds of Authorized Repair shops across the country. This means your robot will never been out of your pool for too long.
Specifications:
Multi-Media
Includes Oversized Leaf Bag, Ultra-fine Filter, Standard Filter
Tile & Waterline Cleaning
Vector Advanced Waterline Cleaning Ability
Logic
Calculates optimal cleaning route for faster cleaning & improved efficiency
Navigation
Microprocessor controlled SmartNav 2.0 learns subject pool
Capabilities
Vacuums leaves, debris, pollen, twigs, algae, & more
Dual Stabilizers
Delivers superior agility, manueverability, & climbing performance
Energy Efficiency
Reduces energy costs up to 90% over AC powered cleaners
All Surfaces
Power scrubs and vacuums doors, steps, walls, and water line
Maximum Filtration Rate
Micro filters 75 gallons per minute for remarkable water quality
Micron Rating
2 micron - removes thet smallest contaminants, even green algae
Air Sensor
Learns water line elevation for superior water line cleaning
Motors
Dual 24 volt brushless DC energy-efficient, long-life motors
Anti-tangle Swivel
It's the world's only true cable swivel, a patented Dolphin exclusive
Warranty
3 Year Manufactuers Warranty